Whether you choose the MH 500 with its hydraulic hand pump for the lifting cylinder and equipped with a
pressure control valve or the MW 500 with its electric 12/24 V winch and manual lifting arm adjustment –
the compact EBEV lift is quickly installed on the carrier vehicle.
It goes without saying that the CE marked EBEV Lift 500 complies with
the provisions of the EN Machinery Directive as safety is our top priority.
Compact, versatile, safe!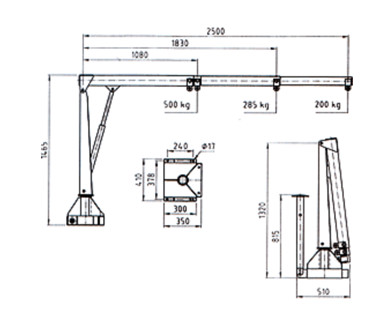 With hydraulic manual pump for the hydraulic cylinder,
equipped with pressure-limiting valve
hydraulic cylinder with line-break and countersunk brake valve
hydraulic arm with manually removable extension
360-degree crane that can be moved manually using crankshaft via a worm gear drive
manual support adjustable aloft, laterally hinged for pulling and elevating, installed one way in the crane socket
crane socket reinforced with hole pattern for the attachment
auszieh- und hochklappbar, einseitig im Kransockel montiert
solid column suspension with sockets
painted with RAL 3002 carmine red/galvanized
hydraulic moment 0.54 mt
Weight 95 kg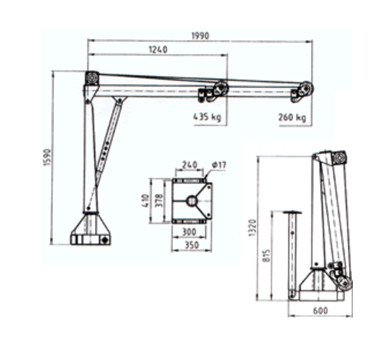 With electric 12/24-volt winch and
manual hydraulic arm adjustment
hydraulic arm with manually removable extension
360-degree crane that can be moved manually using crankshaft via a worm gear drive
manual support adjustable aloft, laterally hinged for pulling and elevating, installed one way in the crane socket
crane socket reinforced with hole pattern for the attachment
solid column suspension with sockets
painted with RAL 3002 carmine red/galvanized
hydraulic moment 0.54 mt
Weight 105 kg